As of 30 November 2021, this page is now closed for feedback.
We thank everyone who has taken the time to submit comments on the project - they have been invaluable in helping us to address issues that have arisen throughout the trial.
We will now analyse all of the comments we have received on this page, as well as through other channels such as email and telephone. This analysis will inform East Renfrewshire Council's decision on whether to retain, modify, or remove the measures, which will be taken at some point before the end of the trial in June 2022.
We are in the early stages of developing a "masterplan" for the A77 Ayr Road corridor. This will look to achieve a more ideal layout for the road that delivers on community aspirations and learns the lessons from Spaces for People. We expect to consult on a draft of these proposals in 2022.
Should you wish to provide any further feedback, please email spacesforpeople@eastrenfrewshire.gov.uk or call 0141 577 3001.
The information below is retained as an archive for your convenience.
Welcome to the A77 Ayr Road Design Feedback site
Following the initial phase of the Ayr Road Response Measures , East Renfrewshire Council (ERC) will be replacing the temporary traffic management on Ayr Road with more robust materials. This page provides further information and the opportunity for you to have your say on the changes, as well as future priorities.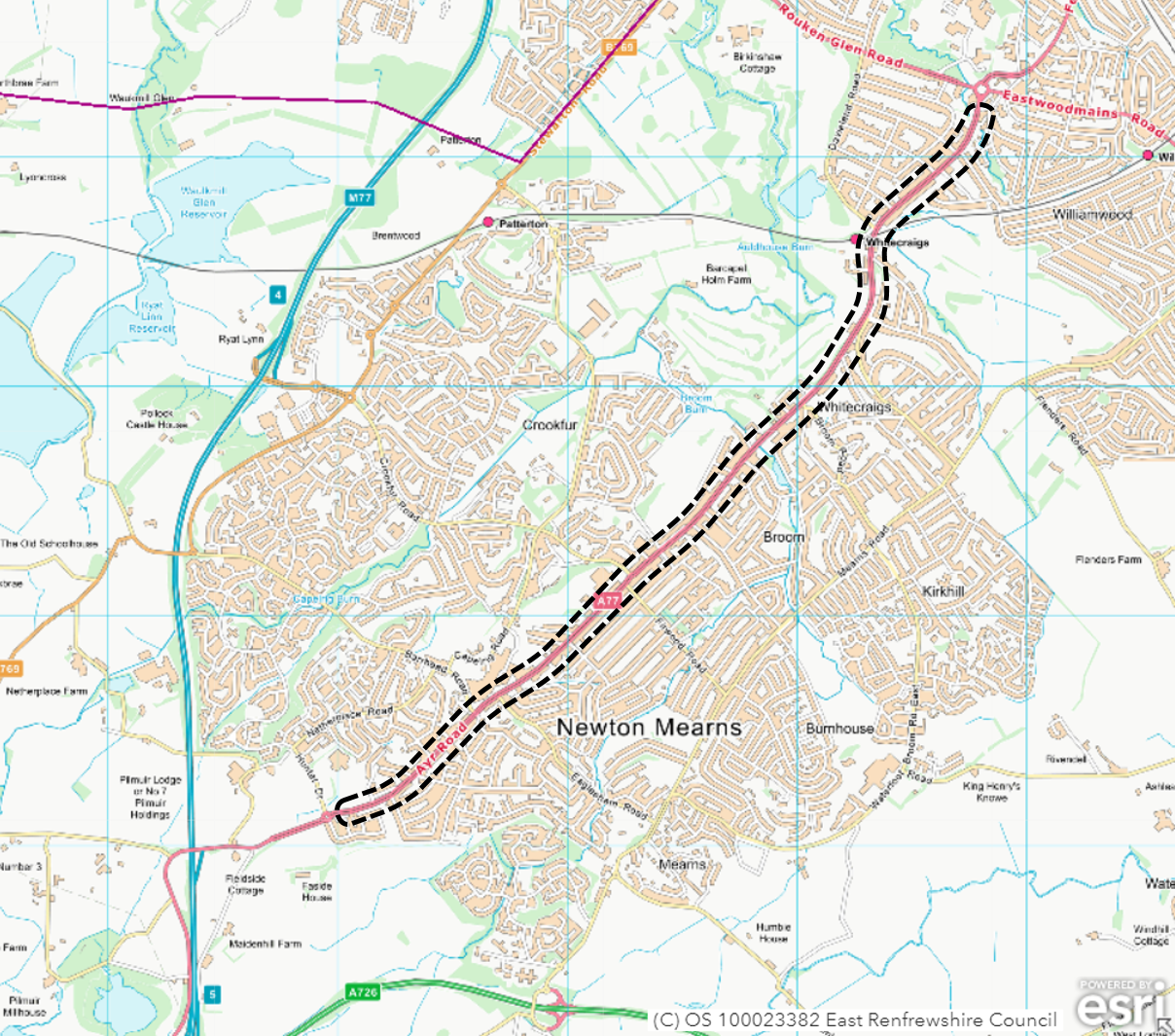 Extent of measures
Replacement of cones with light segregation
While traffic cones along Ayr Road have offered people cycling a degree of separation from motorised traffic, we are aware that these can be displaced and present an obstruction within the cycle lane. As a result the cones will be replaced with more robust 'light segregation' units of two types:
1. Flexible delineator posts: to be placed at three-metre intervals along Ayr Road, as shown below.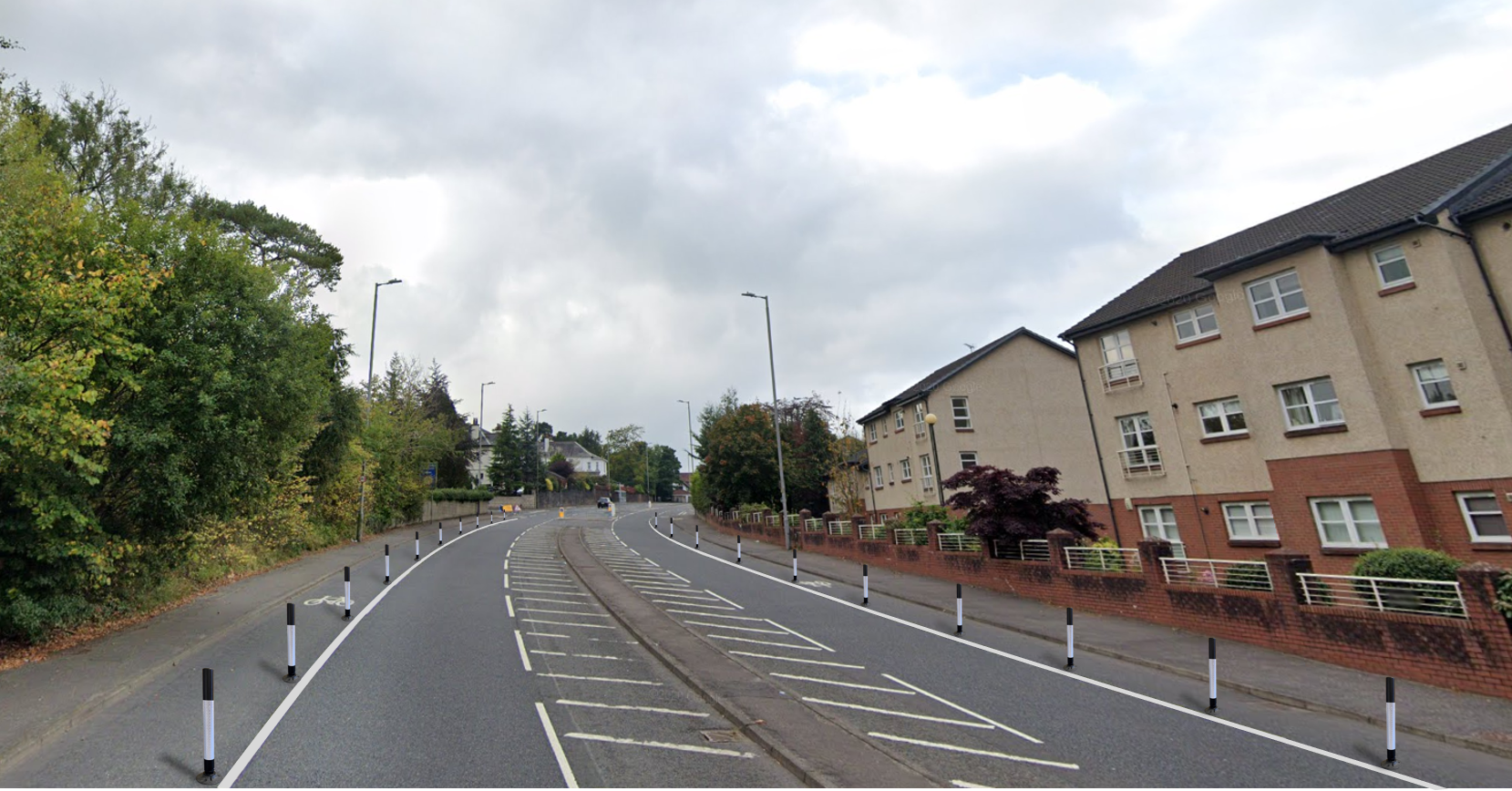 Impression of final appearance
2. More substantial recycled rubber 'wand orca' units: to be placed at junctions to highlight potential conflict points between motorists and cyclists, as shown below.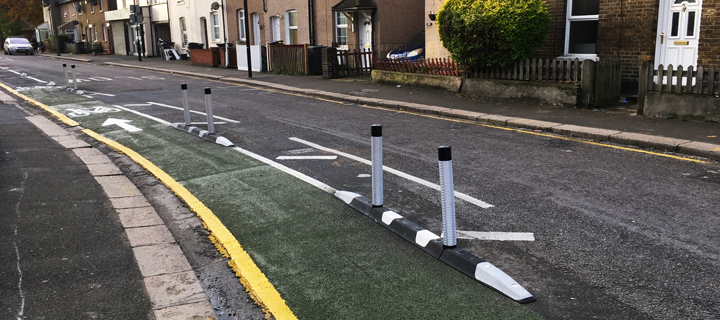 Example of light segregation unit (Rediweld)
The new segregation units will have many advantages. They will be:
Fixed to the carriageway, preventing them from being moved
Narrower than the cones, increasing the usable width of the cycle lane
Less visually intrusive, but will still have a reflective strip for night-time visibility
Targeted widening of cycle lane
We have identified a number of locations where targeted improvements to cycle lane widths can be made as part of this phase of the project.
New car parking facilities
New parking bays, with space for approximately 8 cars, will be provided on the southbound side of Ayr Road, near 'The Avenue' at Mearns Cross, to improve access to local services. Although the cycle lane in this area will not be segregated, ERC have identified that this and other issues at Mearns Cross could be addressed via a more sustainable longer term programme of works.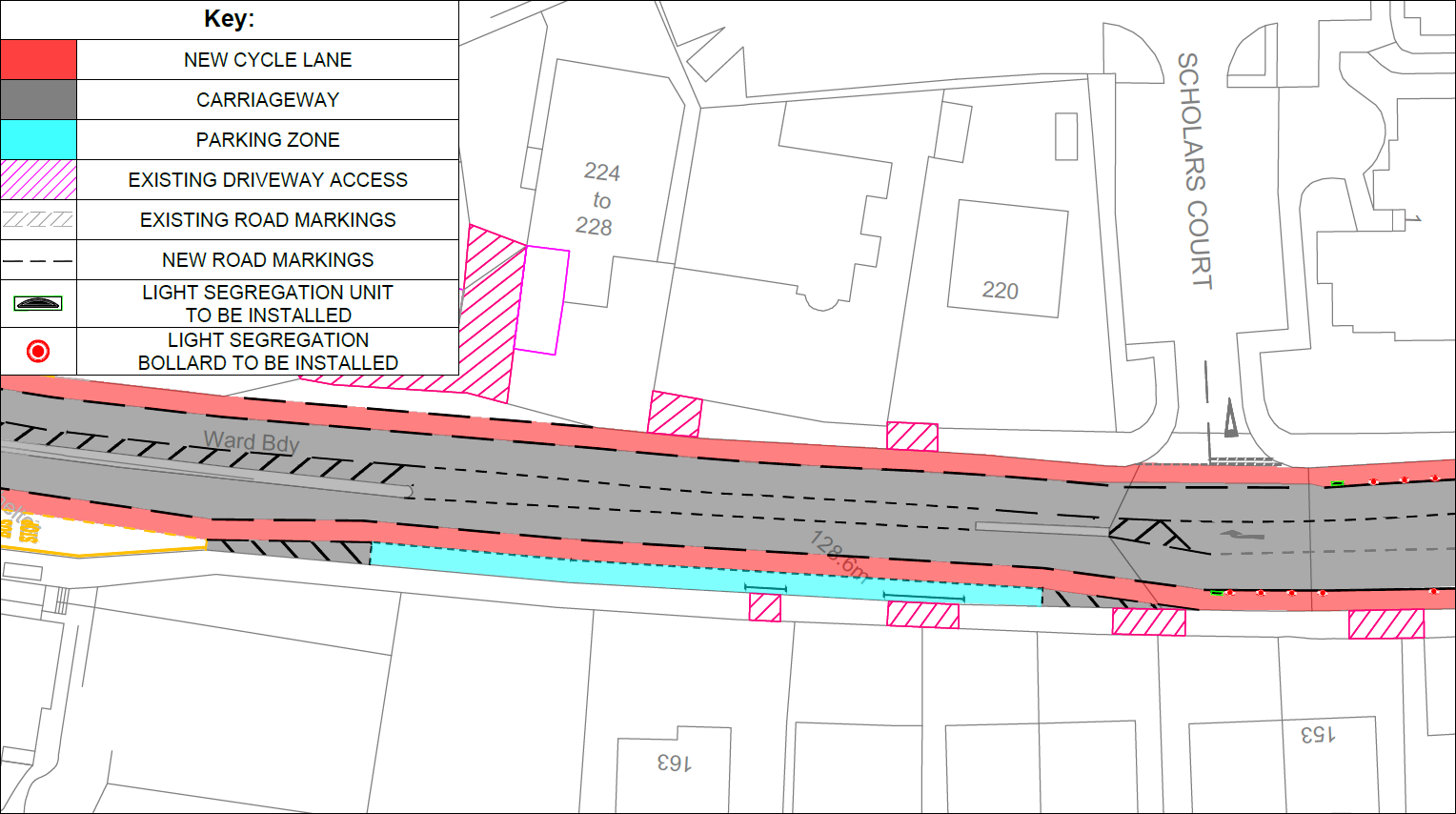 New parking bays, with space for 3-4 cars, will be introduced outside the supported living accommodation near Ashtree Grove. These will be designed in a 'floating' arrangement, with the cycle lane running between the parking bays and the footway. This represents an experimental approach with any future evaluation considering the merits of introducing similar arrangements elsewhere along the corridor.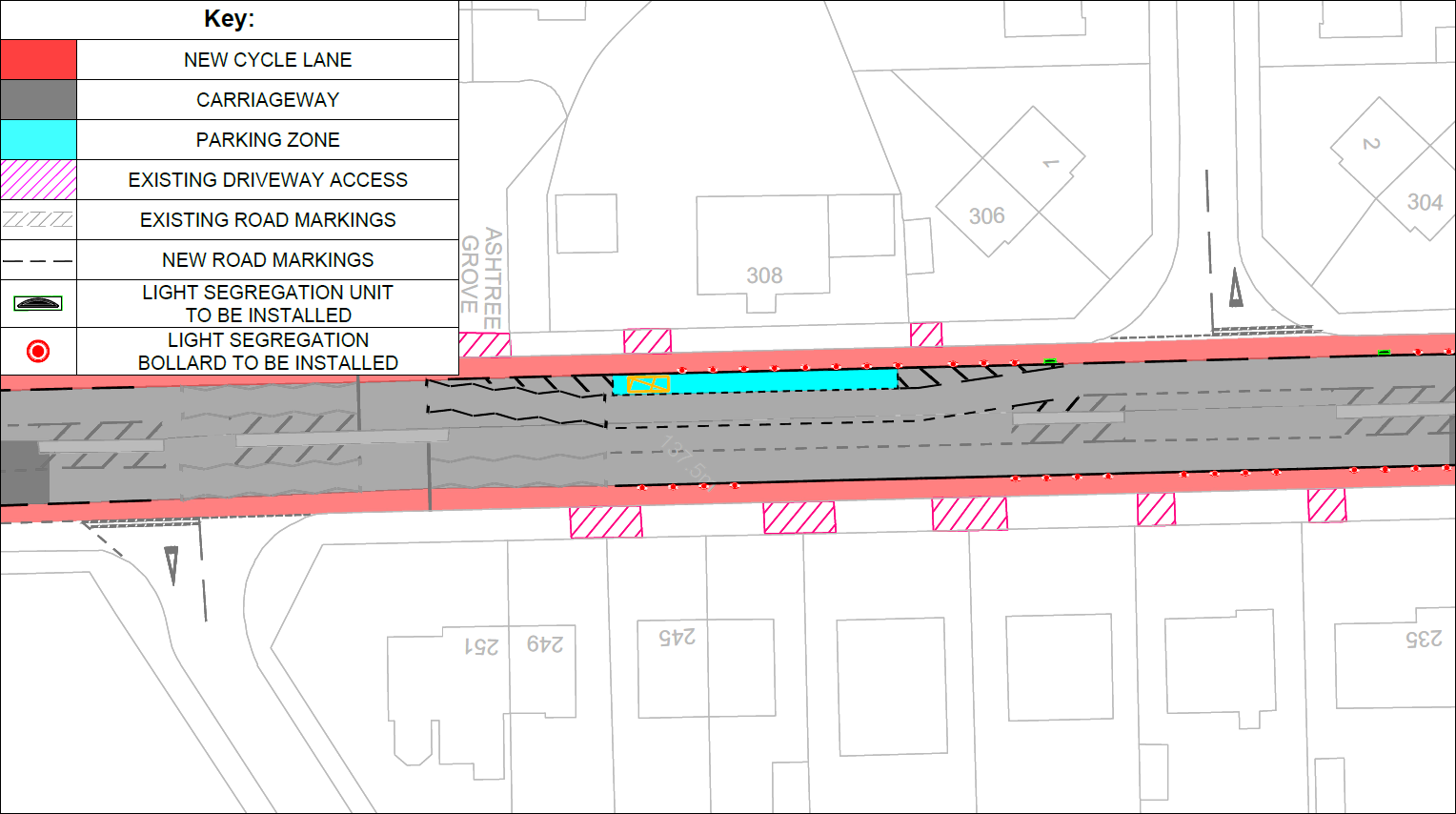 Mearns Cross (southbound)
We will reinstate a two-lane arrangement on the southbound approach to Mearns Cross / Eaglesham Road: one left-turn lane and one straight-ahead lane. This reflects congestion concerns, including impacts on bus services, arising from the initial phase of the trial. This change will be enacted on the basis that permanent longer term solutions are required at this location.
Further information
Phase 1 Design Review – [LINK]
This report includes an overview of the Phase 1 measures, key findings, and recommendations to support Phase 2.
Phase 1 Consultation Report – [LINK]
This report provides a summary of consultation feedback received during Phase 1 (between December 2020 and March 2021).
Phase 2 Road Layout Drawings
The following links show indicative road layout plans for Phase 2, which may be subject to minor change.
Section 1 - Malletsheugh Roundabout to Mearns Cross - [LINK]
Section 2 - Mearns Cross to Elmwood Avenue - [LINK]
Section 3 - Elmwood Avenue to Whitecraigs railway station - [LINK]
Section 4 - Whitecraigs railway station to Eastwood Toll - [LINK]
ERC are keen to hear your feedback on the project. This includes comments on Phase 2 measures and longer term priorities for the A77 Ayr Road corridor; please see brief survey below