As of 30 November 2021, this page is now closed for feedback.
We thank everyone who has taken the time to submit comments on the project - they have been invaluable in helping us to address issues that have arisen throughout the trial.
We will now analyse all of the comments we have received on this page, as well as through other channels such as email and telephone. This analysis will inform East Renfrewshire Council's decision on whether to retain, modify, or remove the measures, which will be taken at some point before the end of the trial in June 2022.
We are in the early stages of developing a "masterplan" for the A77 Fenwick Road corridor. This will look to achieve a more ideal layout for the road that delivers on community aspirations and learns the lessons from Spaces for People. We expect to consult on a draft of these proposals in 2022.
Should you wish to provide any further feedback, please email spacesforpeople@eastrenfrewshire.gov.uk or call 0141 577 3001.
The information below is retained as an archive for your convenience.
Roadspace reallocation proposal
Update 10 January 2020
Please note that this design feedback consultation page relates to road space reallocation on Fenwick Road from the junctions of Berryhill Road to Church Road over a length of approximately 500 metres. We are keen to get your views on these measures, however, there are no proposals at present for any temporary measures within Giffnock Town Centre . The previous indicative plans from June 2020 posted on this site will be updated to reflect this. Please subscribe to our News page for future updates or contact the project team if you have any specific queries.
The A77 road corridor – a key local movement corridor through Newton Mearns, Giffnock and onwards to Glasgow – was highlighted as a priority Response Measure. This was due to historically high cycle usage, ongoing community demand for safe and inclusive cycling space and existing road safety concerns.
During COVID, active travel, and in particular, cycle usage along the A77 has increased significantly as more people walk, cycle and wheel for essential journeys and exercise.
With space often shared between cyclists and pedestrians constrained to "shared footways", and people often having to step onto the carriageway to maintain appropriate distance, a trial roadspace reallocation scheme was considered appropriate and necessary.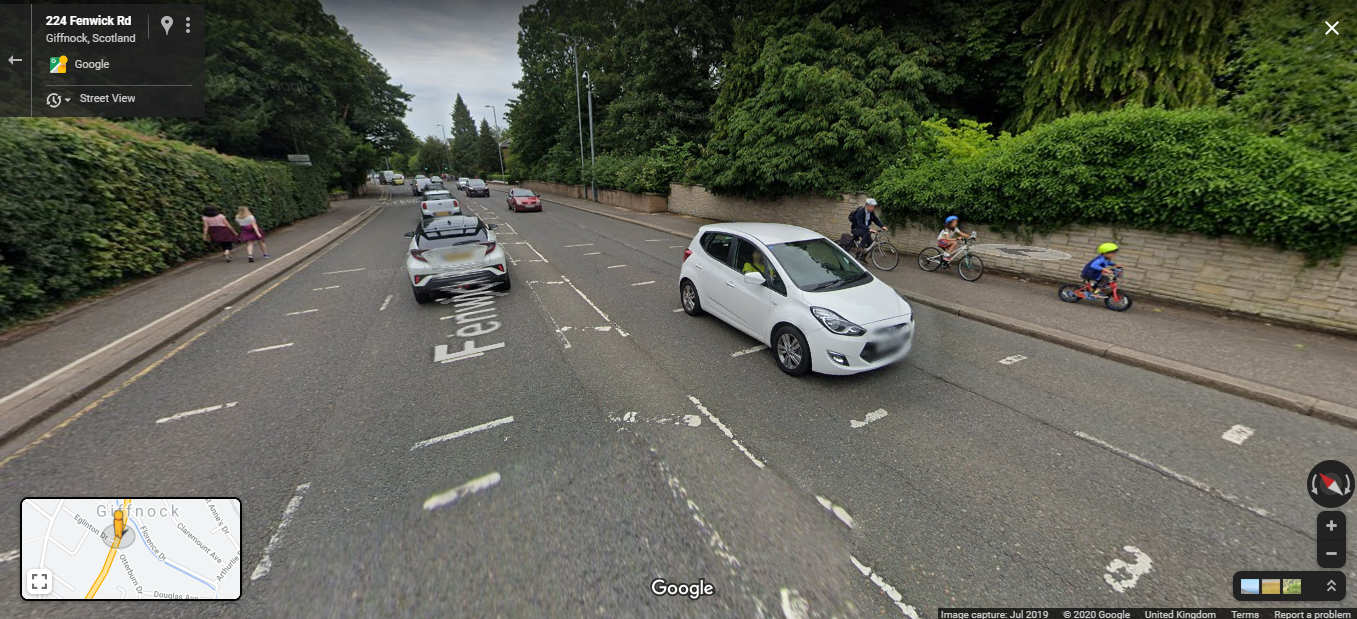 (image Google streetview copyright)
Proposals will see the reallocation of the nearside general traffic lane, initially from Berryhill Road in the south to Church Road in the north, through the use of flexible traffic cylinder delineator posts. This aims to
Provide space for people walking, cycling and wheeling; and
create a more inclusive active travel environment (by improving safety and supporting more active journeys in line with government COVID transport guidelines)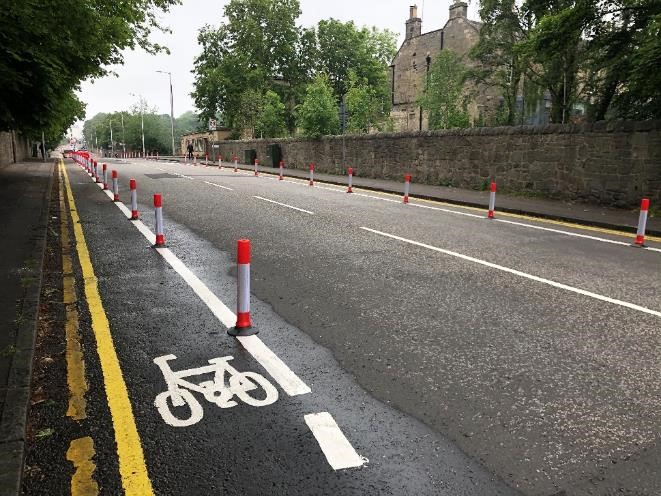 Following an initial trial period, and responding to community and stakeholder feedback, this provision will be assessed early 2021. This includes opportunities to enhance connectivity towards Eastwood Toll and whether additional enhancements may be necessary.
Check out the following document: