As of 30 November 2021, this page is now closed for feedback.
We thank everyone who has taken the time to submit comments on the project. We will now analyse all of the comments we have received on this page, as well as through other channels such as email and telephone. We will re-open consultation with the community before November 2022, when the School Street trial is scheduled to conclude: this will provide another opportunity for you to have your say on the future of the scheme.
In the meantime, should you wish to provide any further feedback, please email spacesforpeople@eastrenfrewshire.gov.uk or call 0141 577 3001.
The information below is retained as an archive for your convenience.
To protect public health and improve road safety, East Renfrewshire Council will be piloting a temporary 'school street' outside Giffnock Primary School. This will restrict vehicle access on Academy Road at the start and end of the school day to help create a safer and healthier environment for our pupils.What is a School Street?
"A School Street is where a road outside a school temporarily closes to motor vehicles. This opens the streets to families on foot, bike or scooter at drop off and pick up times. This can give families the space that they need to get to school safely and contributes towards a safer, cleaner and more pleasant environment. As well as increasing the likelihood that children will walk or cycle to school, this can potentially help reduce the number of car trips, reduce congestion at peak times, improve air quality, encourage exercise and reduce road traffic collisions." (Sustrans; School Streets for Social Distancing. Summary documents for school).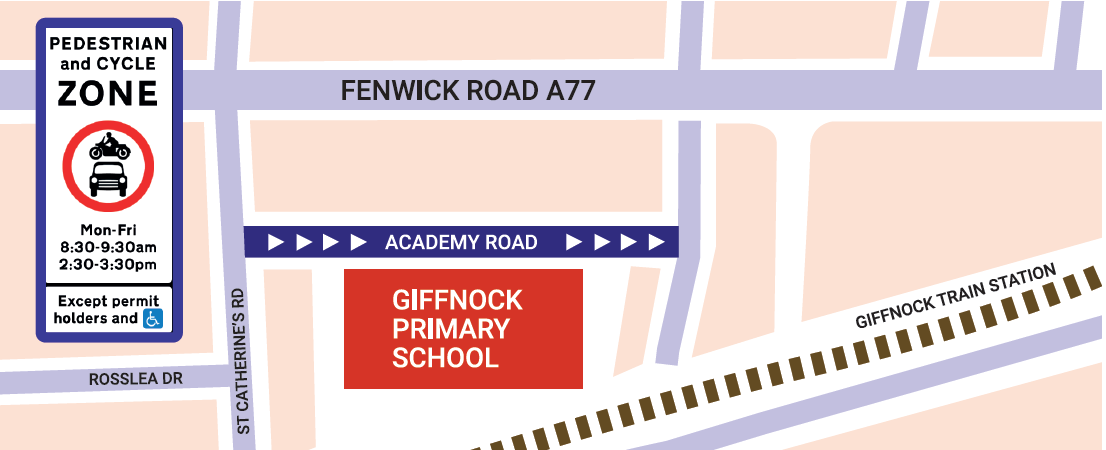 'School Street' Location Plan
Background
East Renfrewshire Council (ERC) will trial a temporary School Street pilot outside Giffnock Primary School. Please see links below for further information:
Summary
ERC will promote a Temporary Traffic Regulation Order to restrict most vehicle traffic from Academy Road during school pick-up and drop-off times*.
Measures will come into effect 7 June 2021
Timed restrictions will be valid between 8:30am-9:30am and 2:30pm-3:30pm, Mondays-Fridays during the school term (to reflect staggered school start / finish times currently in place)
A monitoring plan will be implemented to assess the scheme and impacts on adjoining streets
The restrictions will be in effect for a maximum of 18 months, following which a decision will be made on whether measures should be made permanent, modified, or withdrawn
ERC will consider feedback received between June and August 2021 to assess and support any additional measures or changes that may be necessary summer / autumn 2021.
*For those parents who still need to drive, we ask that you park away from the school and walk for the last five or ten minutes of the journey.
Permits & Exemptions
The restriction will apply to all motor vehicles unless they have a permit or are exempt. Exemptions are detailed within the supporting Temporary Traffic Regulation Order . Key exemptions include Blue Badge holders and emergency service vehicles.
Permits will be issued to affected residents who live within the zone and may require access during restricted times. Details on how to apply for additional permits can be found here .
Although Giffnock Primary School staff are not exempt, a limited number of emergency permits can be issued to persons working within the school who require access, as nominated by the Head Teacher.
Enforcement
There will be no physical barriers preventing access to Academy Road. Instead, new signage will be placed at the start of the road detailing the restrictions, timings, and exemptions. Any offence committed can be enforced by Police Scotland.
Police Scotland have been consulted on this scheme and will continue to liaise with the council and community on the new restrictions.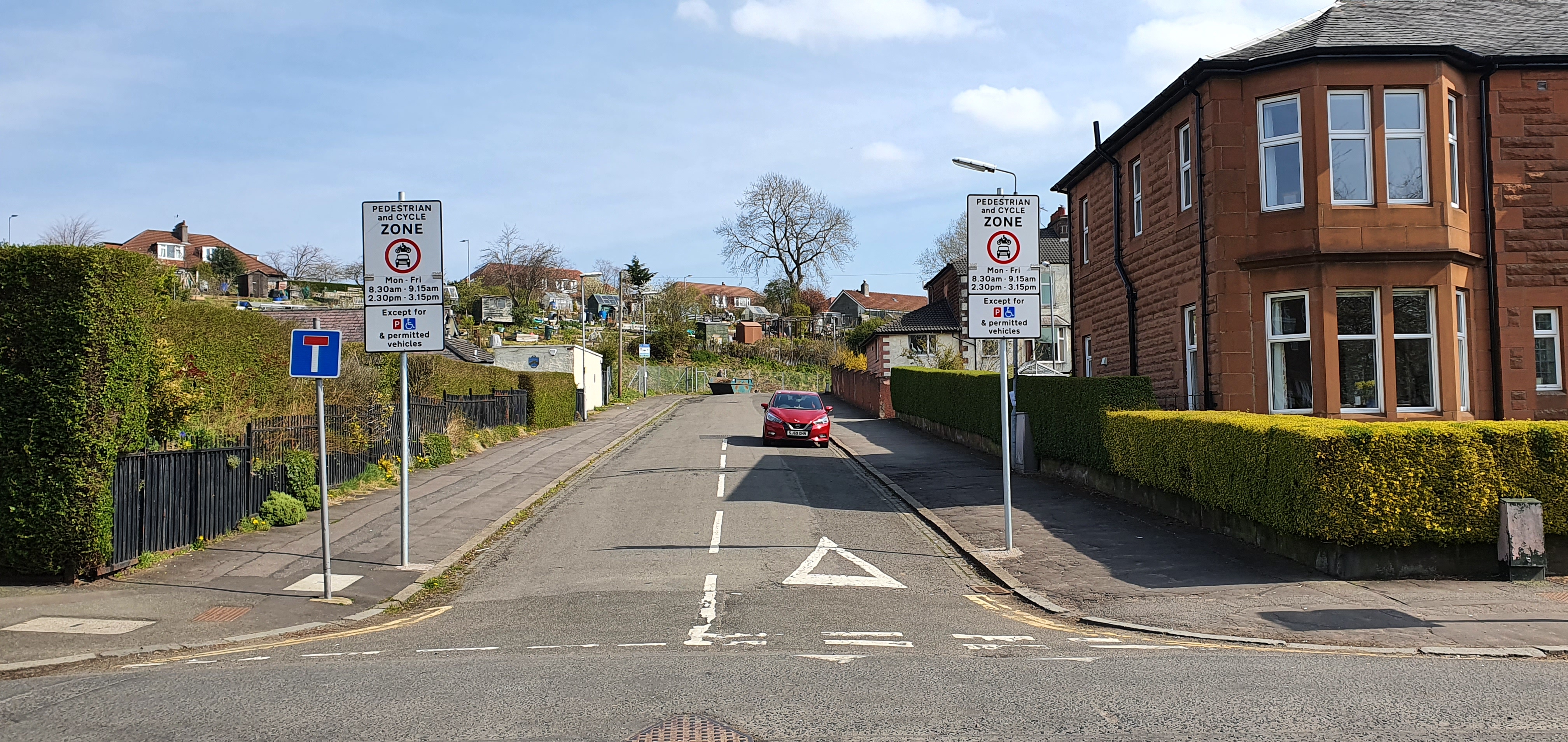 Example of 'school street' signage
How to Feedback
We are keen to gather your views on the scheme. We would be grateful if you could assist us by completing the short survey below . This information will be used to better understand impacts, what changes may be necessary and help guide future plans in the area. If you have any specific comments or enquiries please email Spacesforpeople@eastrenfrewshire.gov.uk
If you have any additional support needs or require further assistance please contact Customer First on 0141 577 3001